Sensor
---
M2M Dynamics has partnered with industry leaders to provide turnkey solutions. M2M Dynamics works with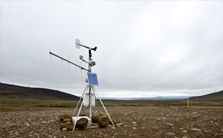 environmental sensors such as early fire detection, prevention to sensor solutions for military and aerospace applications. M2M Dynamics can provide production ready solutions as we have done for the following:
Forest Fire Early Detection
This state-of-the-art, patented technology uses both an on-sight computer along with transmitted data to a control center as a two-step detection and analytic process. Moving in 10 degree increments, the sensor completes a 360 degree rotation every 8 to 12 minutes, during which it takes images, analyzes, and transmits those images back to the central secondary analysis. When fire events are detected, the system alerts fire authorities. Any suspected fire event creates an alarm and then a operator can view and dispatch crews as needed.
Click image to access "FireWatch" videos.