M2M Industrial Wireless Sensor
---
PE.WSNi – Industrial Wireless Sensor Networks: at the forefront of condition and remote monitoring technologies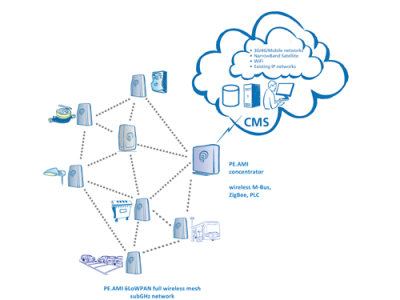 PE.WSNi is a scalable and modular system enabling rapid and cost-effective design and deployment of a reliable sub-GHz wireless-mesh network featuring 6LowPAN protocol for data acquisition from any kind of new or existing industrial sensor.
Including advanced software tools and network management systems on sub-GHz ISM band for higher penetration and noise immunity, and featuring ultra low power technology for long life operations (> 8 years) and predictable power management, PE.WSNi is a self organizing, self healing and adaptive solution, ensuring data reliability >99%.
It stands the harshest conditions (IP67 and ATEX certified), and suits the needs of various industries:
Energy management – for supply efficiency, critical equipment monitoring, downtime reduction
Condition and remote monitoring – for higher plant availability, proactive problem detection, performance optimization;
Industrial and production plant monitoring – for fault diagnosis, leaks and bursts detection, safe operations and improved efficiency;
Engineering and telemetry projects – for structure monitoring in the set up phase and in the time, static condition control and alarm management.