DATAEAGLE 3000 Series
---
Wireless Fieldbus / Profibus products for ultra-low latency applications.
Unlike a few competitive solutions that exist globally DATAEAGLE 3000 exactly like a cable. You can set up your Profibus application, (for example with STEP 7 from Siemens) as a cable connection with up to 1.5 Mbps, and then replace the cable with a wireless link, without modifying the PLC program or the device concept. Generally, any standard Profibus slave can be used behind the radio link. Programmable devices using Profibus Master are supported behind the radio link.
In the Wikipedia "Wireless Profibus" the differences between devices by different manufacturers are described. The DATAEAGLE 3000 family behaves as a transparent Profibus transmission without changing the timing.
Several unit types are available with different radio technologies and different PROFIBUS / PROFIsafe interfaces. The 3000 series can be supplied with the following wireless technologies:
| | | | |
| --- | --- | --- | --- |
| Device Type | Frequency | Transmission power | Wireless technology |
| 300X | 2,4 GHz | 100 mW | Proprietary WLAN based on |
| 310X | 1,9 GHz | 250 mW | DECT |
| 330X | 868 MHz | 500 mW | Proprietary FHSS, TDMA |
| 340X | 459 MHz | 2 W | Proprietary |
| 370X | 2,4 GHz | 100 mW | Bluetooth frequency hopping |
| 380X | 5 GHz | 200 mW | 802.11a Standard |
We use standard wireless technologies like Bluetooth, WLAN 802.11b and DECT radio transmission to the PROFIBUS. However, we also have a proprietary solution based on Wi-Fi, but has been optimized for distance, availability, and noise. Compared to WLAN 802.11g, the distance of our proprietary wireless technology is 10 times greater and the availability is 10 times higher at the same time.
These capabilities are the reasons for several thousand industrial applications for well over 10 years of continuous daily use.
---
Available types of devices (since October 2009, all as a variant 3xxx-A):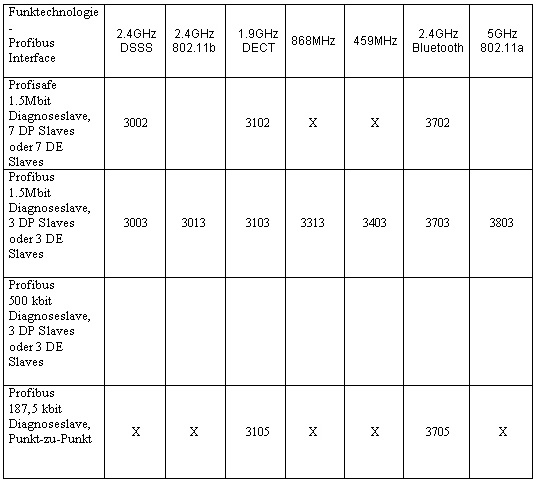 The numbers in the matrix are DATAEAGLE types (3002 – 3805) and are available standard units. Missing numbers indicate that the device model is not yet available. "X" indicates that this type is not technically possible or not planned.
The most commonly used types are the DATAEAGLE 3702 and 3703rd The cheaper option is the U.S. 3705th
Profibus master behind the radio link!
DATAEAGLE supports Profibus master behind the radio link. Worldwide, there are no comparable solutions. Profibus master are PLC (PLC), operator panel (OP) or a programming device (PG). Complete PG functionality is supported. Remote maintenance and programming are possible when the TS adapter is routed through the radio link.
What seemed to be impossible until recently is now working since 2000 for wireless Profibus DP slaves, and since 2007 also for the Profibus master in daily industrial use: Token transmission by radio, completely interference free in case of disturbances to another bus, completely transparent for the user and for control purposes. There can also be other wired PROFIBUS users on the master side. Then the Profibus communication via radio link is completely transparent for all participants!
A white paper of the DATAEAGLE solution is available.
We have put together a comparison with simple Bluetooth Profibus converters.
All DATAEAGLE 3xxx have a built-in Profibus slave diagnostic. This allows variables which are provided by the radio link, to be monitored and visualized by the controller. This diagnostic slave gets its own DP address and its own GSD file and is addressed by the PLC like any other DP slave. The internal variables of the radio link can be accessed by the PLC. You can read and process many variables like the data transmission time via the radio link in milliseconds, the number of radio messages, packet repetitions, status and restarts of the slaves, and many more. This can be used for diagnostics and long-term monitoring of the radio link.
Wireless PROFIBUS & PROFIsafe allow fail safe communication by radio and emergency shutdown
DATAEAGLE 3702 is the version of PROFIsafe via PROFIBUS and builds on the DE3703. The radio link is so fast and highly reliable that failsafe applications such as the emergency shutdown have already been successfully installed.