DATAEAGLE 2000 Series
---
Fieldbus / Profibus "Protocol Aware" products for ultra-low latency applications.
We recommend DATAEAGLE 2000 if you want to connect via radio link. DATAEAGLE handles the communication to the controls and the transmission and distribution across the radio link. The interface to the PLC cycle program consists of two data elements: a transmission and a reception area.
The following interface options are available:
Profibus DP bus up to 12 Mbit
MPI / PPI for Siemens S7 200/300/400
Profinet IO
L1 for S5
3964R for module CP 341
CAN
Modbus RTU
ASCII serial driver
DATAEAGLE myth Compact I / Module
Above interfaces are not transparently transmitted via the radio link, but end within the radio. The data from the fieldbus protocols are unpacked and handed over to the radio link. From then on all DATAEAGLE 2000 devices are the same, regardless of their respective fieldbus interface.
When using the MPI interface, no additional interface modules on the control side are necessary. The MPI interface is available for all Siemens S7 200/300/400 controllers.
Point-to-point and master / slave networks can be built. Different control interfaces can be used. DATAEAGLE 2000 is also a protocol converter. The center element can be, for example, an S7 400 with Profibus DP or a Profinet connection. The interfaces of the external stations can be S7 and S5 programming interface.  Any combination is possible.
This diagram shows the different possibilities of the DATAEAGLE 2000 family.
This is a representation of a very simple I / O signal transmission over the radio link contrary to the above drawing.
| | | | |
| --- | --- | --- | --- |
| DE 2000 | 2,4 GHz | 100 mW | Wireless |
| DE 2100 | 1,9 GHz | 250 mW | DECT |
| DE 2320 | 868 MHz | 500 mW | DTH |
| DE 2400 | 400- 470 MHz | 2 W | e.g. 459 & 448 MHz time slot technology |
| DE 2500 | 900/1800 MHz | 2 W | GPRS mobile |
| DE 2600 | Telephone and 2-wire connection | | |
| DE 2700 | 2,4 GHz | 100 mW | Bluetooth |
DATAEAGLE 2000 can be supplied with the following radio technologies: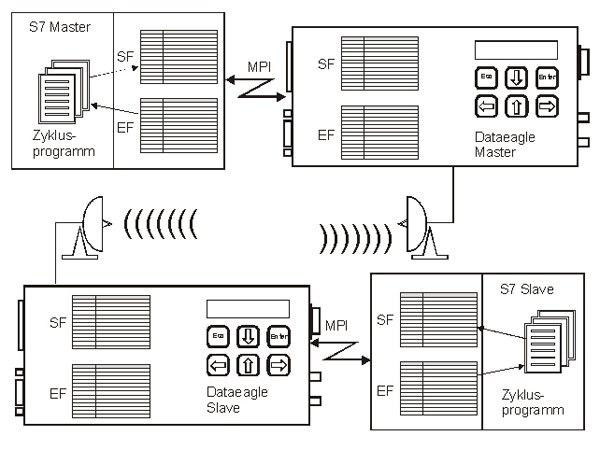 Mailbox Operation
The cycle of a master PLC program writes the data to be transmitted into a transmission area (data block). The DATAEAGLE master reads a data block using the hardware interface MPI, and then copies the data into its internal memory. Then the data is transmitted to the selected slave. The DATAEAGLE slave writes the data into the slave SPS through its existing hardware interface (which may be different for DATAEAGLE master). From there it is processed by the local cycle program. The return path is identical using different data blocks.
In a master-slave radio network there can be up to 99 integrated DATAEAGLE slaves. Each slave is given a user-defined memory area in the allocated transmission and reception data block. This assigned area is then exchanged transparently by radio link between master and slave in both directions.
Benefits DATAEAGLE 2000 Concept
There is no way around the DATAEAGLE 2000 if there is a need for a longer distance or in case of poor radio conditions, when limited line of sight exists. It is easier to transmit data wirelessly when the radio link and the cable interface are separate. DATAEAGLE takes over all functions to enable data transmission and backup via the radio link.
Disadvantages DATAEAGLE 2000 Concept
This approach is slower than a fieldbus transmission and some functions of the fieldbus will be lost. In case of a radio link interruption there will be no Profibus generated errors. Appropriate status bits in the data block show whether a new record was received.